Gibsonia, PA Clock Repairs
D & J Clock Shop
For professional clock repairs and quality clocks, contact D & J Clock Shop in Gibsonia, PA. We are a specialty shop offering a wide assortment of clocks for sale. We also buy antiques and clocks. Our repair services are available for all types of clocks.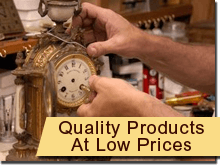 Learn More About D & J Clock Shop:
Floor clocks
Wall clocks
Mantel clocks
Cuckoo clocks
Packing service
Moving service
Setup service
Clock repairs
Contact D & J Clock Shop today at 724-443-8540 for more information.